About Yellow Dot Designs
Yellow Dot Designs is the graphic design studio of Ellen Hamilton, located in Alexandria, Virginia. The studio specializes in logo design, and motion graphics for video. Ellen majored in painting and printmaking at VCU, and later earned a degree in communication design. She worked as in-house graphic designer at a DC publishing company for eight years, leaving in late 2007 to open Yellow Dot Designs. She joined the Chamber of Commerce in Alexandria, and has worked with many businesses and groups on marketing and event materials both in print and online. In 2011, Ellen started learning motion graphics using After Effects with the goal of creating film intros and titles. She became active in the video and film industry, joining "Television, Internet and Video Association of DC" (TIVA), and participating in "Women in Film and Video" (WIFV) events.
Yellow Dot Designs. What does it mean?
Yellow is warm like the sun.
It is unassuming and friendly.
Yellow is a color. A dot is a shape.
Artists work with color and shape.
Dot com generation.
A dot is punctuation.
Graphic designers work with punctuation.
A yellow dot is a visual image that helps you remember.
Yellow Dot is a design studio in Alexandria.
Yellow Dot Designs is here for you.
Projects
Video
1. A documentary film is in the works: The Great Scottish Migration is about where Scottish Americans actually immigrated from, why they left Scotland, and what was life like for them there? Shipping from the Clyde River is discussed and a look at how southern Scotland came to be so populated. To support the project go to www.gofundme.com/Scots-Doc
2. Real Estate video for a large mansion is done for Ann Shack of Keller Williams. This is a 24,000 square foot home in Great Falls. Mansion-Video
3. The 5 minute interview/documentary video on Street Sense vendor Wendell Williams is done!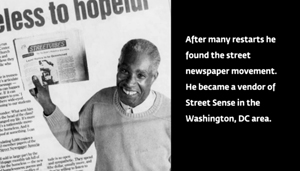 Wendell talks about how Street Sense helped him gain control of his life. I did the cinematography using a Sony HDV camera with help from Margaret Kennedy. I got Wendell's GoFundMe page live, and it is mentioned in the ending credits. Wendell-Doc
4. I have created an animated intro and credits to a feature-length
film by a young film maker called "Friends4ever." It is a coming-of-age film about some young women dealing with marriage and growing up. You can see it on the friends4ever.
Websites
1. I have created a website showing beautiful Greek properties, which you can see here.
2. A website for Hollin Hall Memorial Services can be seen here. Hollin Hall has many gorgeous indoor and outdoor spaces for memorial services to remember loved ones. I was amazed at all the intimate shrub-enclosed gardens and patios they have. They want to make this known to the world, so this website will help.
3. I helped get the new Wordpress website for the Del Ray Artisans up and running. Lots of functionality was needed with a calendar for members, artists, media and more. You can see it here.
Print Design
1. A book cover design is complete for a book of poetry by Catherine Jagoe, published by Settlement House. See it in Ellen's portfolio under Recent Work, here.
2. I created many bar graphs, scatter graphs, pie charts and custom graphs for Groff Creative in Maryland, for a publication for a government agency.
3. A fund-raising package, flyers in a folder, is in the works for a non-profit media company. It's very fun to be getting to know this television and radio production studio!
4. The page design of a book of poetry by Settlement House Publishers is finished and in print! See "As Sunrise Becomes the World, A Trilogy" By Louis Skipper, at settlementhouse.us
Other Stuff
I am learning Adobe Animate. This software makes amazing 2d animations and is comprised of relatively small files. In addition, I have been using Cinema 4D to create titles with 3d effects for video.
If you find yourself in old town Alexandria, you can see my work in the shop window of K Aubrey Flowers at 1401 King Street. For Valentine's Day I created another video for the shop, seen below. It's for the shop window, so there's no sound.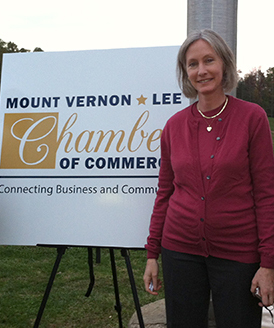 About Ellen
Ellen began designing in the mid '90s. She opened a studio called Yellow Dot Studios. She worked with Alexandria businesses and restaurants painting murals, designing logos and doing pen and ink illustrations. Later she was the in-house designer at Thompson Publishing Group in Washington, DC for 8 years, designing book covers, marketing materials, direct mail and animated graphics and ads for the company website.
In 2005 she created the website ellensimages.com as a collection of photos and art for purchase. Ellen published commercial calendars for 2006 to 2008. In late 2007 she opened Yellow Dot Designs.
Ellen earned degrees in Painting and Printmaking at Virginia Commonwealth University in Richmond, Virginia, and in Communication Design at Northern Virginia Community College in Alexandria. She is working on a personal portfolio of her work over the years. You can see it at ellenhamilton.com.
Ellen grew up in Pittsburgh, Pennsylvania but spent her teen years in Germany, where her father taught English at the University of Kassel. Along the way, she learned to speak German, French and Spanish.
Ellen has been active in several business and arts groups, including the Television, Internet and Video Assn (TIVA), AIGA (American Institute of Graphic Arts), The DC Ad Club, the Alexandria Chamber of Commerce, the Small Business Development Center (SBDC), the West End Business Assn (WEBA) and other business groups. She is interested in history, and served on the Alexandria Archaeology Commission for 6 years.
Ellen lives with her husband Andrew, who comes from the county of Renfrewshire, in southern Scotland.
-----
Below is one of Ellen's first business cards. She hand-inked the portrait from a sharply lit photograph which she took using her tri-pod. Next to that is a mural Ellen painted for Crescent City Restaurant, which was on King Street in Alexandria. The mural was painted backwards, to reflect in a large mirror behind the bar.
Below, Ellen signs a mural in the mid 1990's.
Here are parts of a mural painted by Ellen for a children's bedroom. Painted in the mid 1990's.